Dublin City Council seeks feedback on new planning application interface
Back to News, Blogs & Events
03/08/2016
Buildingeye is a new user friendly planning information portal, which is being tested by Dublin City Council through the Smart Dublin pilot programme.   We want to make it easier for residents, planners and councillors to find the planning information they need straight from their mobile or tablet.  Click here to use the Buildingeye demo and see what is planned for your neighbourhood.
How does it work?
The Dublin demo shows a map of all planning applications received by Dublin City Council from January 2003 up to the end of last month. It also has an easy to follow tutorial that shows you step by step how to search by address, neighbourhood or constituency.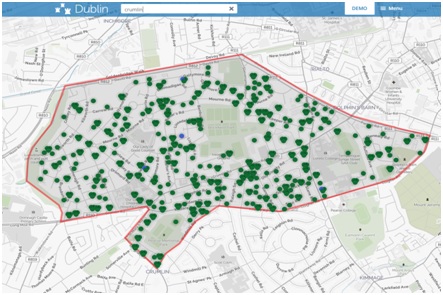 Blue dots show applications that have been submitted and green represent approved applications. Select a dot on the map and an overview of the planning details are displayed. Select "more details" and the application links you to the full planning application on the city council's website.
Tell us what you think.
We are running this pilot until the end of September so please tell us if you think it is a good idea or not by selecting the feedback option under the menu tab on the Buildingeye demo.